Mar 28, 2014
This post was updated on Feb 15, 2017.
The classic tools Scrum teams use when organizing their work are, of course, whiteboards, charts, and note cards. But Scrum project management software can empower you to do so much more! Plus, using software is the only viable option if you work with a distributed team.
Agile project management tools are numerous, but if you don't want to extend your project budget, here is a selection of free Scrum tools that will let you manage Agile software development more effectively without spending any extra. Don't miss our expert Q&A on how to select the right Agile project management tool for your needs at the end of this post.
Read more: Which Country Has the Best Web Developers?
1. Scrumblr
This absolutely simple web-based tool is basically a web simulation of an Agile sprint board, where your team can collaborate in real time. It can turn in handy when you don't have a physical board at hand or work with a distributed Agile team.
2. Scrumpy
Scrumpy is 100% Java Scrum project management software, designed to assist you as a Product Owner with Backlog management: it provides a long-term view of User Stories and helps you answer questions like what is expected to be done by a certain date or when a feature is expected to be implemented. Scrumpy's set of features complements your Scrum practices and doesn't interfere with the face-to-face communication.
3. Agilefant
Easy to use and functional Scrum project management software, Agilefant is a web-based tool that simplifies managing projects and related activities. Its model adapts to your team structure and scales from personal to-do lists to long-term product planning and portfolio management.
4. iceScrum
iceScrum is a web tool that will be very handy for distributed Agile teams. It offers Dashboard and Timeline views, Product Backlog, Release Plan and Sprint Plan, as well as Actors and Team functionality. Plus, with virtual sticky notes, iceScrum facilitates visual management.
5. ScrumTime
ScrumTime is an open source web application that is designed to provide you with an Application Lifecycle Management system. The tool will help you handle team management, client billing, client interaction, and Agile project management.
6. ScrumDo
This tool has an open source version that lets you manage your project using the web. Its features include predictions functionality, Excel import and export, as well as automatic burn up charts. Bear in mind, though, that this free version hasn't been updated over the last couple of years, since the ScrumDo development team shifted their focus to the full-fledged commercial version that can be found here.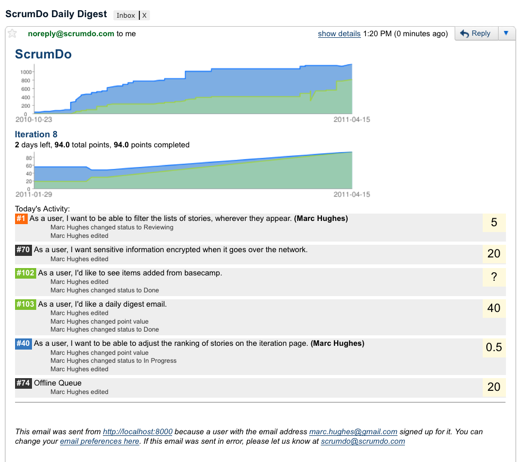 7. Tackle
Tackle is an online Scrum tracking tool that helps you manage teams of any size through their cycle of Scrum sprints. It allows you to manage multiple teams in one site and offers multiple product backlogs for each of your Scrum teams, as well as multiple prioritization methods for these product backlogs.
Read more: Why Set up an Agile Software Development Team With Daxx?
The philosophy behind Agile software development is making the process of creating software more flexible and effective. That is exactly what Scrum project management software helps you to accomplish, so make sure you take advantage of the handy tools, generously offered by the Scrum community!
---
How to Choose the Right Agile Project Management Tool | Q&A
The seven Scrum tools described above are mere droplets in a sea of other handy project management instruments, all of which seem to achieve the same goal — creating a more transparent workflow and easing the collaboration within a development team.
So how do you select the one? The good old trial and error method would probably work best if you had a while to examine each candidate, but if you want to save some time and narrow down your choices, have a read of the Q&A session we carried out with Igor Tkach, our Service Delivery Director, which features some of the most common questions about Agile development tools.
Q: What free Agile project management tools work best for smaller teams?
A: I consider Trello to be the best free option for those who manage a team of two or three people. It allows you to create and manage several boards, add and manage collaborators, manage tasks, add labels, descriptions, attachments, and a lot more besides. This piece of software is certainly sophisticated enough to cover the basic needs of a small team following the Agile methodology.
Q: When is it better to choose paid Scrum tools over free ones?
A: Go for a paid solution when your development team starts growing, and the management process becomes more complicated as a result. Even if you're only managing about six or seven people — each of whom works on several projects at once — you'll definitely want your project management tool to include different types of tasks (User Stories, Technical Tasks, Bugs, Technical Debt Stories, etc.), workflows, release planning, comprehensive reporting (Burndown and Burnup Charts, Cumulative Flow Diagrams, Sprint Reports, Defect Trend Charts, etc.) Furthermore, if you're managing a team of 30 people or more, and want to employ large scale Agile methodologies like the Scaled Agile Framework, (SAFe), Scrum of Scrums, or LeSS, you'll need even more than that again. No free tool is going to provide you with this type of functionality, so try Atlassian JIRA, Redmine, Target Process, Team Foundation Server (TFS), or Visual Studio Team Services (VSTS).
Q: Which Agile project management tools work best for managing multiple concurrent projects?
A: JIRA and TFS are perfect in this scenario.
Q: Which Agile development tools are the currently most popular among Daxx's clients?
A: The vast majority of our clients use JIRA in combination with other Atlassian tools like Confluence and Bitbucket. But there are also plenty of people who opt for the Microsoft products, TFS and VSTS.
Q: Which are the key features that any great Agile development tool should have?
A:
A "task" entity with the ability to add the following categories:

Title
Description/Acceptance Criteria
Task type
Priority
Reporter
Assignee
Sprint
Status
Estimate
Time spent

Flexible workflow settings
Scrum and Kanban boards
Reporting functionality (at least the Burnout Chart and the Velocity Chart)
Effective filtering
An intuitive, easy to use interface
Security and reliability
Some other features that aren't absolutely necessary (but are nice to have nonetheless) include integration with other tools and good customer service.
Generally speaking, if your project management software allows you to view historical data on team velocity and progress, see statuses of all tasks at any given point in time, and perform release planning, you have yourself a proper Agile project management tool.
Q: Which features should a Scrum tool have to be effective for managing distributed teams?
A: A well-established communication process and complete transparency are crucial when you work with a distributed team, and good project management software can help you reach them.
Choose a project management/task tracking tool that will allow you to set dependencies between different tasks. This way, your team members will be able to see dependencies between each other. The ability to leave comments under tasks and receive notifications about changes also facilitates communication with remote colleagues.
Reporting functionality is also important, as it enables your team members to see their velocity and delivery trends. Of course, you can't go far without a task board, which is an integral part of every team meeting, including but not limited to planning, as well as daily and demo meetings.
Looking to hire skilled software developers with Agile experience? Set up and maintain your remote Agile development team in Ukraine with Daxx. Lave us your requirements in the contact form below.
ЗберегтиЗберегти